The hottest mom on the block... (Somerset's Mom)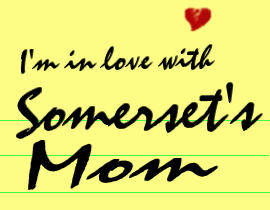 W
hat could one say about Somerset's mom?
Somerset's pals would have told you she had class. And she was sexy. Mostly she was sexy.
But not in a, you know, vulgar way, like Eddie's mom, who was nice when you got to know her -- and not really very sexy at all -- but who dressed like a hooker even though her husband was some kind of Wall Street West guy.
No, Somerset's mom was beautiful, like Grace Kelly or Lana Turner. She went to a gym even back when they were kids.
He'd be over at Somerset's house when they were, oh, 12 or 13, and Somerset's mom would come in from the gym or tennis, sweating a little but just glowing. The time she came in from the pool unexpectedly in a filmy one piece that was wet and clinging to her was seared into his memory all the way through grad school.
[A note about this song:
What's to say?
Sometimes you just get a bonehead idea stuck in your head on an evening when there are no Law & Order reruns and... well, it's a good thing I have cable. PS... if you don't know what a bad pun the title is, that minor ignorance is, in this case, bliss.]
download
[1.8 mb]
play
[broadband]
AYoS radio
[broadband]
previous AYoS version
(November 13)
(I'm in Love with) Somerset's Mom
Ever since Somerset
and me were kids
I've been in love
with that mother of his
All thru hi skool
I was burning up
I tried to tell her
but I wasn't man enough
I'm in love with somerset's mom
I'm in love with somerset's mom
went away to college
as far as I could
dated girls my age but
it didn't do no good
Now I'm back
with a PhD
but I don't even understand
my own psychology
I'm in love with somerset's mom
I'm in love with somerset's mom
3 grown kids and a bad divorce
but she still looks fine
now I'm grown myself -- I'm back
I'm gonna make her mine make her mine
I'm in love with somerset's mom
I'm in love with somerset's mom