Those blues will sit on your head...
Special Feature


Feelin' post-literate? Listen to the audio version of today's commentary -- or download the mp3 to take with you on the road. As always, you can stream the music, as well. (More download options below.)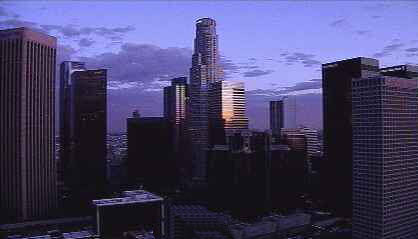 A
h...
The
big kiss off...
engine of ten thousand songs.
A veritable cornerstone of pop music. Topic of some of the 60's best rock and pop writers: your Dylans, your Stones, your Lennons and your McCartneys,
et al.
It was a time when
everyone
seemed to be telling
someone
(and sometimes
everyone
) else to just go...
jump in a lake.
My lost generation was telling
our
parents -- who we now revere and lionize as the Heroic World War II Generation -- to take their repressive social mores and rigid caste and racial divisions -- and their "ugly little war" in Vietnam -- and...
take a hike
.
Workers were questioning the advantage of
the yoke.
Foremen and bosses were telling
their
bosses to shove
it
up the executive elevator shaft. And the rich were ignoring the pleadings of their brokers and legal staffs to join monasteries and ashrams.
But me... I was trying to make my relationship with my GF of the moment
work...
I can hear the eyeballs rolling up across cyberspace... but, honestly... oh, never mind...
Let's say that I thought,
then
, that I was trying to make it work.
At any rate, I wrote this while I was still involved with my GF of the moment... and would be, on and off, for a couple more years,
give or take
...
And I
told
her it wasn't about her or directed to her... but she
was
a very smart young woman and it took her about a half-minute to unscrew her face after she heard me play it the first time... which
was
gratifying.
LA's Not Such a Big Town
download
[ 4.2 mb]
192 kbps
play
[broadband]
AYoS radio
[broadband]
more stream & DL options
previous versions
Monday, December 12, 2005
lyrics
LA's Not Such a Big Town
Well, I hardly know where you're coming from
but it ain't hard to see where you're going to
Hey hey, Darlin'
I just can't save you now
You hold on to me, so damn tight
then push me away -- I walk home through the night
thinking 'bout how
I'd be seeing you around
Hey, hey, Darlin', guess I'll be seeing you around
After all L.A. ain't such a big town
Hey hey Darlin, I hope you ain't feeling down
cause those blues will sit on your head
jack your heart and turn your life around
Now you always argue about everything
In your domain irrationality's king
I got a list of topics
a mile long that can't be brung up
You called me up on the telephone
and asked me if I was alone
I said yes --
you said good --and you hung up
Hey, hey, Darlin', I guess yer feeling proud
after all) ya cataloged my faults told the whole
goldang world out loud
Hey hey darlin, I guess it ain't so strange
You tore up my body,
broke my heart, and threw away my brains
Well, I tried to talk out all those things
but your inattentive condescendance stings
Hey hey darlin
there's no point in talking now
Well I never had the money for diamond rings
nor the guaranteed returns wise investment brings
Hey hey darlin,
I guess I'll be seeing ya around
Hey, hey, Darlin', guess I'll be seeing you around
After all L.A. ain't such a big town
Hey hey Darlin, I hope you ain't feeling down
cause those blues will sit on your head
jack your heart and turn your life around


(C)1976, TK Major