Love will fool you... love can kill you...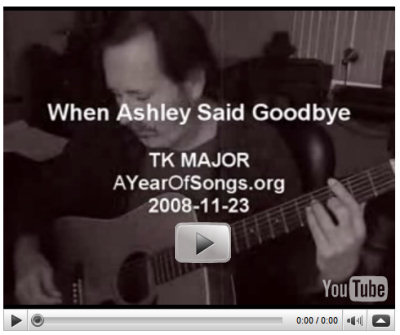 L
ove is both a many splendoured thing and a royal PITA, not necessarily in that order, as everyone who's been paying attention knows by now.
That's the nominal excuse for this song -- but the real deal is just that I wanted to write a song with
two
then-trendy girls' names in the title -- which was originally "Amber Said Hello When Ashley Said Goodbye." But that wouldn't fit in the song database of the old Mp3.com so it got cut down to size back in the heady days leading up to the millennial odometer flip.
Today's song is available as both a streaming YouTube video as well as a downloadable or streamable Mp3. And there are even more download and streaming options available (see the
more stream & DL options in the inset to the right).

previous versions
Thursday, September 29, 2005
Tuesday, May 16, 2006
Tuesday, January 09, 2007
Friday, March 09, 2007
lyrics
When Ashley Said Goodbye

Amber said hello when Ashley said good-bye
I said hold on but there's no wondering why
when love wants in, love can knock down your door

I said Amber, I think this is forever
she said baby youre yanking on my tether
when all is said and done love will even up the score

Love will fool ya love can kill ya
love is all that love can give ya
and still you keep crawling back for more

love is funny; love is cruel
love'll make Einstein act just like a fool
love'll make a tomcat dive in-a swimmin' pool

All these toys all these games
all these pretty dollhouses going up in flames
if you play around enough you know you're gonna get burned

Love will fool ya love can kill ya
love is all that love can give ya
and still you keep crawling back for more
(C)2008, TK Major